Meet Our Team in Newmarket, ON



Dr. Gary Arzem
Raised in Toronto, Dr. Gary Arzem has been practicing veterinary medicine for more than 30 years. His special interests and training include internal medicine, ultrasound, ophthalmology, cardiology, surgery, emergency medicine and preventative medicine. For years, his dream was to run a full-service animal hospital for pets, meeting all their veterinary healthcare needs and providing exceptional client service.
Dr. Arzem has realized that dream at North Yonge Veterinary Hospital. He strives to meet every patient's unique needs and works hard to explain to clients every aspect of their pet's care. He is passionate about preventative medicine as well as progressive treatment and surgery. He enjoys his relationships with his clients and loves informing them on the various details of pet health care that ensure every pet enjoys a healthy and happy life.
When he is not taking care of his patients, Dr. Arzem enjoys spending time with his family outdoors. His interests include travel, baseball and golf. He admits the music is a passion he couldn't live without. A veterinarian who has dedicated his life to taking care of animals, he is especially proud when clients refer friends and family to his practice due to the excellent and thorough care their pets receive and the superior service his staff offers at North Yonge Veterinary Hospital.
---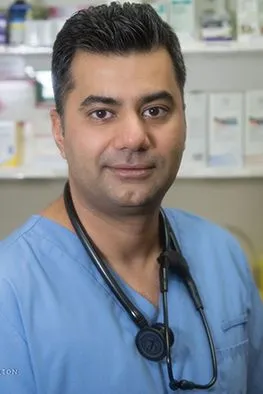 Dr. Amin Sabzevari
Dr. Amin Sabzevari joined the North Yonge Veterinary Hospital team in 2022. Born and raised in Iran, he obtained his DVM degree from Azad University, Iran in 2010. After taking part in several clinical research projects on different species, he published several articles in highly respected peer – reviewed journals.
He has practiced veterinary medicine in both Alberta and Ontario and has special interests in internal and emergency medicine, critical care, imaging, advanced diagnostics and therapeutic tools. He enjoys speaking with and educating clients on medical and preventive health care as well as following up with clients as to their pet's health and progress with the ultimate goal of enhancing the human animal bond.
Dr. Amin Sabzeravi lives in York Region and in his spare time, enjoys travelling, jogging, movies and spending time with friends and family.
---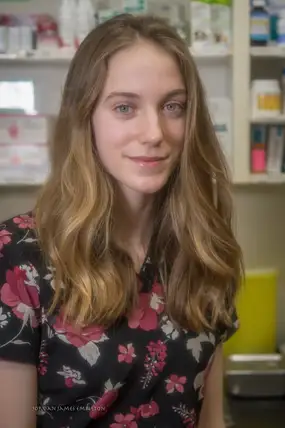 Shayna - Registered Veterinary Technician
Shayna joined The North Yonge Veterinary Hospital Staff team in 2022 after graduating with her RVT(Registered Veterinary Technician) degree from the Northern College Veterinary Technician Program.
She grew up on a farm with a wide variety of animals with unique care needs. These experiences fostered her love for animal care.
As an RVT, Shayna is involved in all aspects of veterinary health care from appointments, diagnostics, to assisting the doctors in all medical, surgical and dentistry cases.
Shayna is known to have a positive attitude with staff and clients and she loves to greet each patient at the door. She is passionate about continuing education, applying her medical knowledge to help pets and to strengthen the human – animal bond.
In her spare time, Shayna loves drawing, exercise, gardening, adventuring the outdoors and animal care as well as spending time with her 2 cats Jace and Marz.
---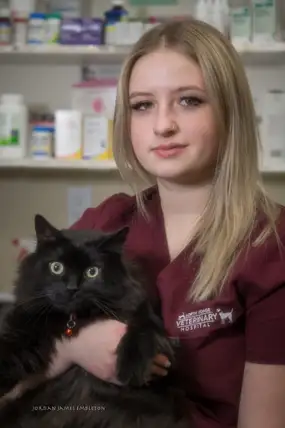 Briar - Veterinary Assistant

Briar joined the North Yonge Veterinary Hospital staff team in 2021. Briar grew up in Georgina and currently lives in east Gwillimbury. Having always been around pets(dogs, cats, rabbits), she loves the opportunity to improve the health and well-being of our patients and making a positive difference in their lives. Briar is certified in Canine CPR and First Aid and has had extensive experience in various kennels and training centers. She is also very supportive of The Lions Foundation of Canada Dog Guides. In her spare time, Briar loves to read, write, drawing and practice many forms of art, spending time with friends and family and her best friend/cat Binx as well as the outdoors and furniture refinishing.
---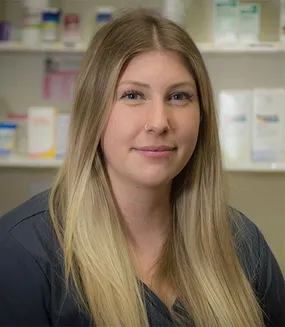 Kristel - Veterinary Assistant

Kristel joined the North Yonge Veterinary Hospital team after graduating from the Veterinary Assistant Program at Seneca College in 2021.
Kristel grew up in Newmarket and Georgina and has always been around dogs, cats and horses.
Kristel has also had extensive experience with horses, competitive riding, volunteering and is a Certified Equine Massage Therapist. Kristel has also had previous work and managerial experience in the restaurant industry. She also continues to work for her family's locksmith business as an accounting clerk/bookkeeper and has her own wood sign business.
She loves to learn and is passionate about giving patients exceptional heath care and being able to contribute to making each client and pet's visit a positive one.
In her free time Kristel loves hiking, fishing, golfing, horse riding, plants and spending time with family(dinner and game night)and pets.
---
Danielle - Registered Veterinary Technician/Lead Technician (Maternity Leave)

Danielle graduated from the Registered Veterinary Technician Program, Seneca College in 2018 and has worked in both general veterinary hospitals as well as emergency. She was also the recipient of The P.A.W.S award at her high school for promoting animal welfare and kindness to animals. Danielle loves that her career helps animals and makes a difference in animals' health and she enjoys building a relationship with clients and pets. Danielle loves to spend time with her fiancée, their 2 rescue cats, along with friends and family. In her spare time, she also likes going on hikes, fishing and exploring new places.
---